Frequently Asked Questions
Frequently asked questions
What are the benefits?
---
Our Cleanses are designed to bring your body and mind to a naturally balanced state of health, from the inside out. By having a direct experience of how good it feels to be healthy, you'll be motivated to keep up the good habits to maintain these results. In the last 9 years, we have run 33 cleanses with 337 participants.

Here are some of their results:
More energy

Weight loss (1-3 kg in a week)

Focus and clarity

More Motivation and Enthusiasm

Improved digestion, less bloating, better eating habits

Stronger core muscles

Feeling younger

Glowing Skin, Better Eye Sight

Empowered to take better care of your Health & Wellness
---
Is this program for me?
---
Our 7 days Cleanse, is especially suited to women over 40 and their occasional family members, who wish to be proactive about their health and well-being and establish healthy habits.
They are genuinely interested in better wellness and wish to lay strong foundations for graceful aging.
Perfect if you are wishing to experience more energy, clarity and possibly lose a few kgs.

For individuals who are open and willing to follow clearly defined step by step, guidelines to achieve their desired results.

Over the years, our youngest participant was 16 and the oldest 72
---
Who is the facilitator?
---
The program is led by Mandakini Foux (57).
For more than 30 years, Mandakini has been guiding people from all walks of life, in their wellness journey (both in Australia and Overseas) utilising Nutrition, Exercise and Supplementation.

Mandakini is passionate about health, nutrition and confident aging. She loves empowering people to take control of their wellness.

She is a Wellness and Nutrition Educator and Coach with a BSc, a Yoga Teacher with Diploma in Japanese Ryoho Yoga, a Zen Shiatsu and Oriental functional therapist and a qualified Zumba Instructor.

She specialises in Immune & Hormonal Health, Confident Aging, Therapeutic Yoga ( Lower Back, Weight Loss and Women's Health) and is an international speaker.
In the last 9 years, she has led over 33 cleanses with over 337 participants
---
What is Japanese Yoga?
---
Japanese Yoga combines traditional yoga postures with movements designed to activate certain meridians/ energy channels, thus it can be tailored to focus on different parts and/or functions of the body/mind. . It is based on the Oriental 5 Elemet Thepry (like Shiatsu, Acupuncture and Traditional Chinese Medicine). . It promotes Life Force and offers profound health benefits.
It makes you feel strong and experience a true sense of well being from the inside out. . It is- Dynamic, Simple, Therapeutic, Fun & Effective Promotes- Strength, Tone, Vitality, Flexibility & Well being . "Although I do yoga, I'd never tried Japanese Yoga before and doing yoga via Zoom was a first for me. Mandakini runs a beautiful yoga class. Her instructions are so clear you just need to follow along with her voice. She is observant and particular so that you feel perfectly safe and know that you are getting the most benefit from each movement. Mandakini explains the purpose of the exercise and takes a holistic approach to the healthy body. This class is ideal for all levels as options are provided and the Zoom format makes it really convenient. I felt so restored and relaxed and had a wonderful nights sleep. Highly recommend Mandakini's yoga class" Claudine Termonen ​. ​"In just a few classes, my lower back and stomach have strengthened - highly recommended" Cyril, Assessor, 43 Watch video to learn more: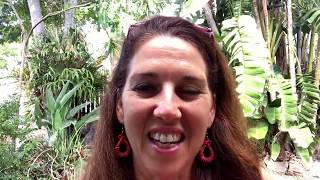 ---
Any more questions?
---
To find out whether this cleanse is suitable for you Click here to book your free discovery call . Or call Mandakini on 0414 630 163
---
What is included?
---
The cleanse includes:
Eating Plan, Recipes & Shopping List

Live Cooking Workshop

Daily "Cleansing with Wholefoods" Workshops

Daily Specific Exercises

Traditional tonics to improve Immunity and Gut Function

Supportive group environment

Guidance on how to integrate the "New You"
Included Bonuses (Optional):
Lunchtime Livestream Cardio Sessions: Tuesday & Friday 12-12:30pm

Ginger Compress Practical Live Workshop: 7pm Tuesday evening

Guided meditation for Healing Body and Mind: 7pm Friday Evening

Livestream Zumba Classes: Mon 6:30pm, Wed 6pm & Sat 9am (Brisbane Participants can attend Zumba Live at Wellers Hill)



Click here to book your free discovery call and find out whether this cleanse is suitable for you.
---
How does it work?
---
The program lasts for 7 days and will run LIVE online via zoom.
You are able to work and look after your family during the cleanse. We'll provide you with the Cleanse Eating Plan, including recipes and a shopping list.

Sunday 7- 9am- Orientation:
We learn about the Program and the benefits of cleansing with wholefoods. Explaining in detail which foods and drinks we'll be introducing for the week and which we'll be eliminating, the activities and what to expect etc. . Sunday 9 -11am - Live cooking class:
We all cook together the main dishes you'll need for the week. . Monday - Friday 6:00 -7:00am:
We practice specific Spring exercises that will increase vitality and strengthen internal organs to support the cleanse process. .
Monday - Friday 7:00 -7:30am:
We'll then have a simple breakfast together (via Zoom), whilst recieving further education about the impact Foods, Drinks and Activities have on our health. . Saturday 12-2pm: We will guide you on how to integrate the "New and Improved You" back into daily life and how to maintain the results you've achieved. . By Saturday most participants feel amazing, many have lost some excess weight and are motivated to keep up good healthy habits in daily life. .
You'll be provided with a Specific Cleanse Eating Plan and recipies which will guide you how to cook delicious plant-based wholefoods that will nourish your body and help eliminate food cravings.

During the cleanse, we follow simple guidelines to eliminate foods and habits that do not support us and replace them with healthier foods and habits. During this week you are also invited to enjoy our bonus activities that will assist the elimination of toxins and the healing process, including:

* LIVE online Zumba classes,
* Cardio Sessions * Ginger Compress * Guided meditation to heal our body and mind. . You are fully supported every step of the way, by the program, your fellow participants (who are going through the same process as you) and a facilitatror with 30 years experience. . You will not be hungry! We are not limiting the amounts, only the types of foods and how we eat them. . Spaces are limited, which makes for a small and supportive group environment, with plenty of opportunities to ask questions and receive individual attention.
---
Is there a guarantee?
---
Happiness Guarantee: We LOVE our cleanses very much and love seeing the transformation in people's health as they go through the program. We believe that if you follow the steps, you can feel amazing too. However, if you attend the whole cleanse and follow all guidelines and are not completely happy with your results, email us at mandakinifoux@optusnet.com.au on the last day of the cleanse after the final session, and Dynamic Wellness will refund the total amount you paid
---
Why Cleanse in the New Year?
---
Why Cleanse in the New Year? New Year is a great time to cleanse after the Christmas extravaganza. It also the time of the Earth Element which governs Spleen and Stomach Meridians -which are in charge of our digestion . Some benefits include more energy, clarity, focus, increased flexibility, stronger bodies, glowing skin, sense of lightness, calm, weight loss (where appropriate) and a desire to keep looking after oneself.
---
---